Before I dive into my July goals (and progress so far), I'd like to take a moment congratulate the winners of my Birthday Giveaway: Elise Edmonds, Allie May, and JD Burton!
Congratulations, you three! Your signed paperbacks will be shipping soon.
Now it's time for that shiny month map.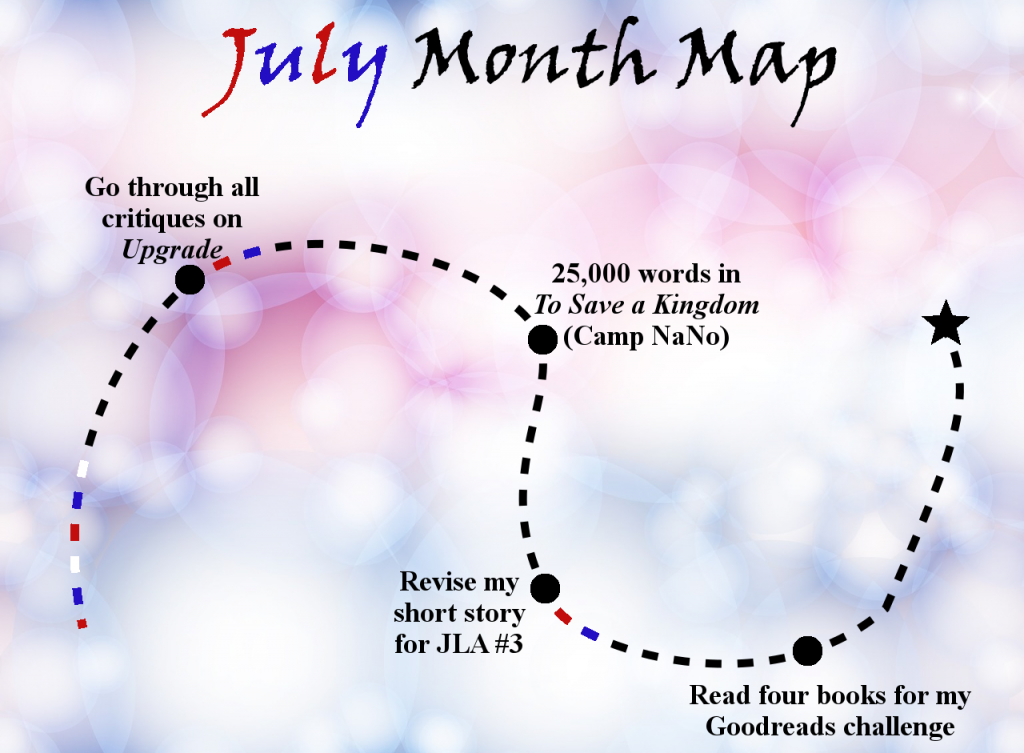 Upgrade
I've made it through 12 chapters so far in terms of critiques (some were done in previous months.) I generally wait until I have feedback from two or three different people before going through crits. However, this time I left it too long and now I have between five and twelve(!) critiques on each chapter, which means that at times progress is very slow. I'm pressing forward, regardless, and am extremely grateful for the time and effort of my critiquers, who have given me a lot to consider as I approach the final draft of this novel.
To Save a Kingdom
This is my first attempt to write a novel from an outline. My sister and I brainstormed a bunch for this novel, and then I sat down and wrote a chapter-by-chapter outline for the entire book. Though originally meant to be a joint project, I think it is likely that I will write the first draft mainly by myself and she will help me in the editing process. You can find me on Camp NaNoWriMo as Shark13 (that's pronounced shark-thir-teen, not sharkie).
Here's the derpy cover mock-up I made with five minutes on Canva, along with a derpy blurb I wrote in about the same amount of time.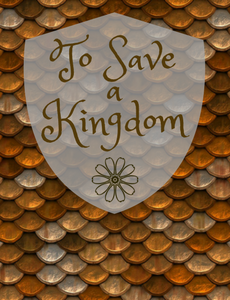 Definitely NOT the final blurb:
When spoiled Princess Alarice drags Oats into an argument with her parents–by kissing him–the castle's most incompetent servant boy finds himself accompanying her to complete three quests. Thankfully, they have her very competent bodyguard, Delmon, along for the ride. However, Delmon's secretive past will put them all in danger. Can they complete the quests? Will Oats ever see home again? And will Alarice ever stop whining?
JLA #3 short story
I'll be providing more details on this soon, but suffice to say that I missed the deadline by a couple of days and the story is currently very rough and rather short. It needs a lot of editing, but overall feedback on the idea has been positive. Just need to fix up the execution a bit. And add more description.
Goodreads Challenge
My challenge was going very, very well. At the beginning of this month, I was still ahead. However, I recently decided to change my goal to 100 books, so I'm behind again. Although I need to read 7 books to catch up, my goal for this month is 4 because this is a very busy month for me (lots of driving, for one thing!)
What else do I have going on this month?
I've driving about 1500 miles in the space of a week.
I'm spending almost a week in The Land of No Internet (aka my family's summer place). YAY for uninterrupted writing and reading time!
I have an author talk at my local library on the 18th! So excited!
How about you? Anything exciting planned for July? Are you participating in Camp NaNo? Any suggestions for surviving without internet?