Normally I review fantasy books for my Magic Monday series, but I read Sensation: A Superhero Novel yesterday and it was amazing! So today I'm sharing it with you.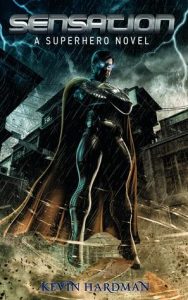 Like millions of other kids, Jim grew up wanting to be a superhero. Unlike most of his contemporaries, however, Jim actually had the goods: a plethora of super powers that would have been the envy of any meta on the planet. But when his tryout with the Alpha League – the world's premiere group of supers – goes disastrously wrong, Jim basically becomes an outcast.
Two years later, Jim is still bitter about what happened to him. However, he soon finds himself the centerpiece in an odd turn of events that gives him a second chance at his dream. But nothing is as easy as it sounds, as Jim soon discovers. Among other things, he's made an enemy of a prospective super teammate, he's being stalked by an unknown pursuer, and a shadowy cabal bent on world domination has identified him as the only obstacle to their plans.
It's a lot for one super to handle, even with a smorgasbord of abilities. But if saving the world were easy, everyone would do it…
I don't often stumble upon a good superhero novel, but this one had all the one points for me–sympathetic hero, interesting setting, and a cliche in just the right way plot. After a disastrous tryout for the Alpha League, Jim plays superhero in the shadows. But he's not a vigilante–he has his grandfather and a powerful superintelligence called BT helping him capture and turn in supervillains secretly. It's only when trouble really begins to rise that he realizes he'll have to embrace who he is–Kid Sensation–in order to save the world.
I loved Jim's voice throughout the piece; he comes across as very human in spite of all the powers he has and all the training his grandfather has given him. He and the other characters bring the story to life, and it's rather larger than life in some ways, just like a superhero comic might be.
If you enjoy comics and superheroes, I highly recommend this story. You can find it on Amazon.