Hello, first day of spring! I can't believe winter's over…no, really, I can't, because we have snow arriving tomorrow and my parents have been getting pounded with snow where they live as well. As much as I would like to see spring's first buds and flowers, I think the plants had better all stay hibernating a little longer!
Today I'm sharing an update on my month map for March. March is just over half over, and this should have been posted yesterday, but it's been a busy month in terms of work.
Here's the shiny visual of my progress: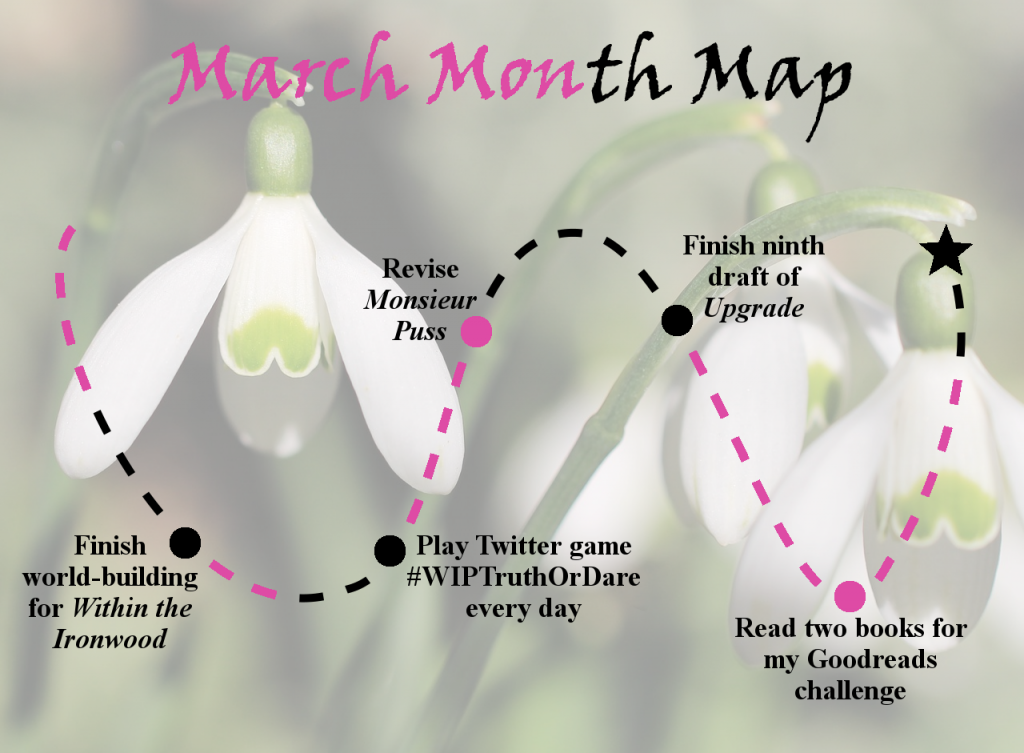 And here's the less shiny but more verbose version:
World-building – In progress
I've made progress on this, thanks to a brainstorming session with a friend who has been very patient and helpful during this process. We have another discussion planned for this week, provided I get some progress on the material before then.
Twitter game – In progress

Due to both work- and personal life-related stress, I haven't had as much energy for social media this month as I hoped. However, I have been popping in every few days to see how #WIPTruthOrDare is going, and my co-host (Allie May) and I already have the prompts together for next month, thanks to our amazing participants!
If you're on Twitter, come join in the fun! This month's focus is a mixture of fun prompts and a few editing ones as a nod to National Novel Editing Month, which has historically taken place in March.
Monsieur Puss – DONE!
I sat down and revised Puss in one sitting earlier this month. My awesome partners have since looked it over and announced that it's getting close to ready–I'm hoping I only have another minor draft or two to go.
Upgrade – Not started
I completely forgot this was on my map! However, I only have six critiques left to go (one chapter), so should have no trouble getting that done before the end of the month. I'm so close!
Goodreads Challenge – DONE!
I've read several books already this month, which completes this goal and then some! You can follow my challenge here: Heather's Goodreads Challenge.
Last, but not least, the Just-Us League's blog tour celebrating to the release of our fourth anthology, Of Legend and Lore, finished on the 12th of this month. You can check out all the interviews below, including one of me by the awesome J.E. Klimov!

Just-Us League hosts B.C. Marine — 5th February
Cover reveal on the Just-Us League blog — 7th February
Allie May hosts Matthew Dewar — 8th February
J.E. Klimov hosts Kelsie Engen — 13th February
Louise Ross hosts M.T. Wilson — 16th February
Heather Hayden hosts Allie May– 19th February
Kelsie Engen hosts Renee Frey — 20th February
RELEASE DAY — 26th February
M.T. Wilson hosts Sam Waterhouse — 1st March
Kristen Kooistra hosts Louise Ross — 2nd March
Elise Edmonds hosts J.E. Klimov — 7th March
J.E. Klimov hosts Heather Hayden — 9th March
Allie May hosts Elise Edmonds — 12th March
How is your March going? Are you excited for spring? Has it arrived yet where you are?