February vanished like a passing storm (yes, it was a great month, but it was also quite stressful!), and now March has stormed in, ready to offer fresh new adventures!
Although my previous month's goals ended up not being doable due to both work commitments and anthology commitments, I did make some progress. Here's my final February map: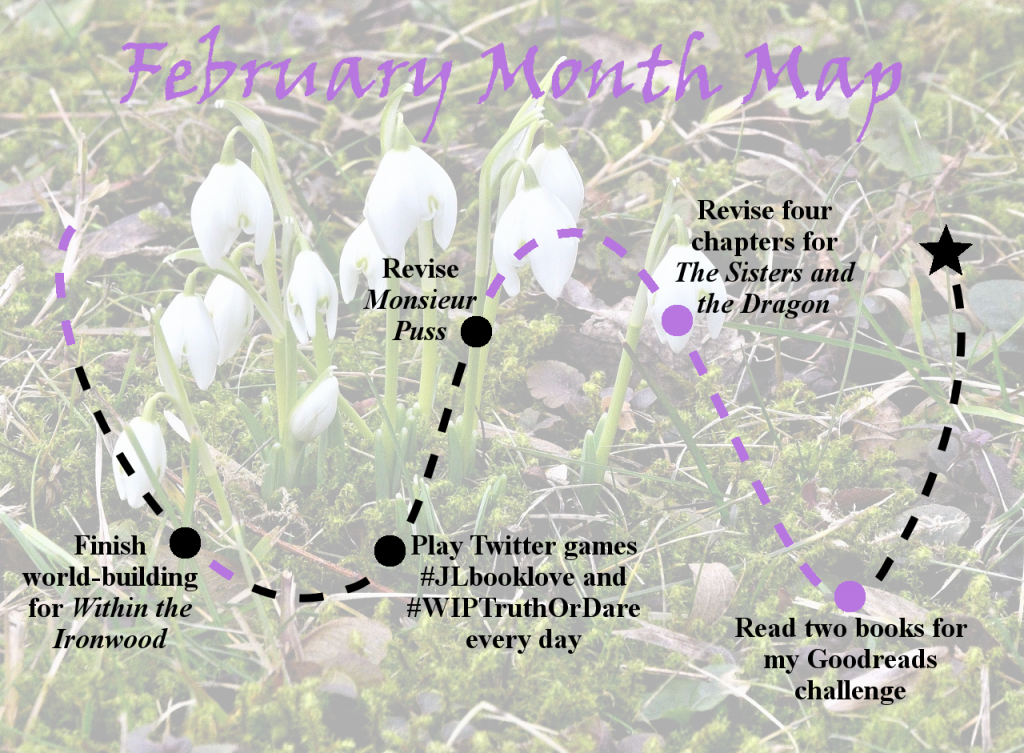 I did complete the important goal of finishing my revisions on the first draft of The Sisters and the Dragon; it's now going through its first round of critiques this month. The world-building is still a slow-going process. However, I hope to make better progress this month.
March's goals are similar to February's goals, although in some ways, a little less demanding.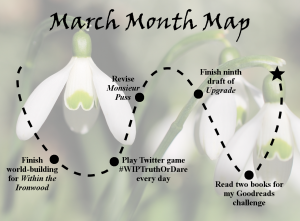 World-building
If all goes well, I'll finally finish the world-building this month!
Twitter game

I have been the co-host for the Twitter game #WIPTruthOrDare for a while now. Last month, the creator, Melanie Thurlow, decided to step down as host and asked me if I would like to take the reins. I agreed to do so and enlisted the help of Allie May, one of my fellow JL members, to co-host it with me. This month's focus is a mixture of fun prompts and a few editing ones as a nod to National Novel Editing Month, which has historically taken place in March. If you're on Twitter, come join in the fun!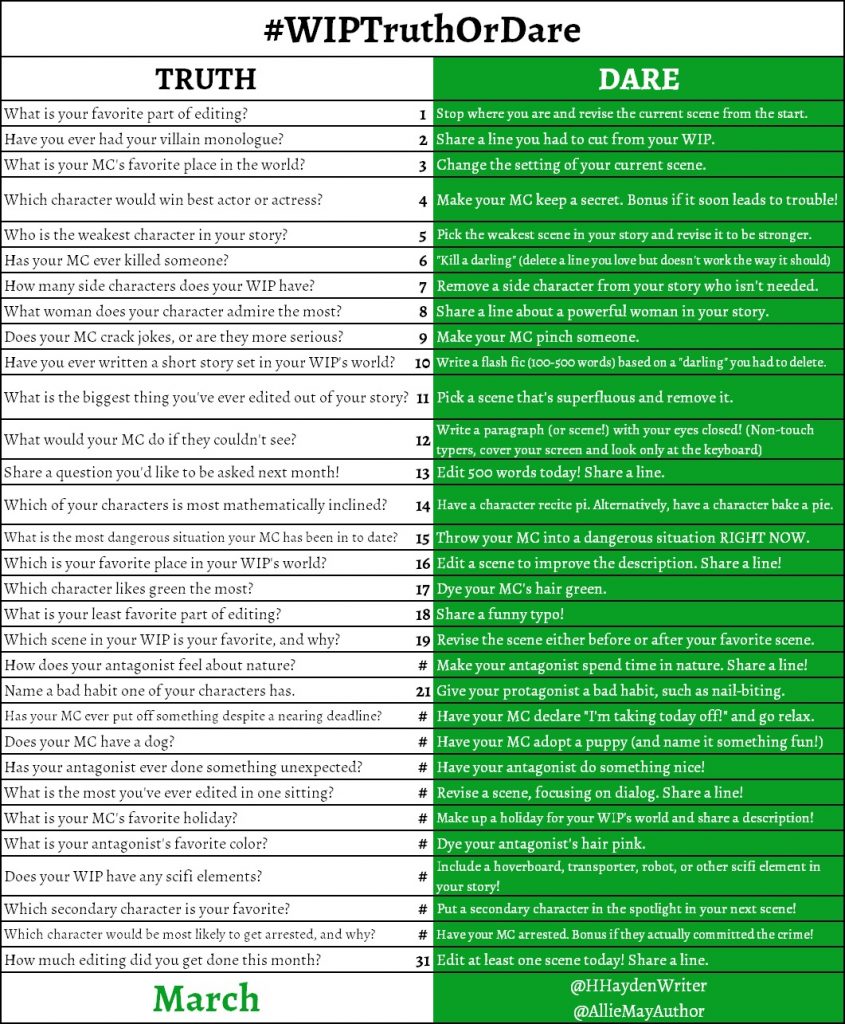 Monsieur Puss
I know what I want to do with this story, I just need to sit down and complete the revisions.
Goodreads Challenge
Last month, I read more than I planned, so I'm still ahead on my goal. Once again, I've set a small goal of two books for this month. You can follow my challenge here: Heather's Goodreads Challenge.
Finally, the Just-Us League released our fourth anthology, Of Legend and Lore, on February 26th (National Tell a Fairy Tale Day!). In celebration, we're hosting a blog tour of interviews with the authors, which will last until mid-March. You can find a list of the blogs and interviews below.

Just-Us League hosts B.C. Marine — 5th February
Cover reveal on the Just-Us League blog — 7th February
Allie May hosts Matthew Dewar — 8th February
J.E. Klimov hosts Kelsie Engen — 13th February
Louise Ross hosts M.T. Wilson — 16th February
Heather Hayden hosts Allie May– 19th February
Kelsie Engen hosts Renee Frey — 20th February
RELEASE DAY — 26th February
M.T. Wilson hosts Sam Waterhouse — 1st March
Kristen Kooistra hosts Louise Ross — 2nd March
Elise Edmonds hosts J.E. Klimov — 7th March
J.E. Klimov hosts Heather Hayden — 9th March
Allie May hosts Elise Edmonds — 12th March
What are your plans for March? How did your February plans go?