Welcome to another Magic Monday post! Today, I'm reviewing The Snow White Files by Sonya M. Black.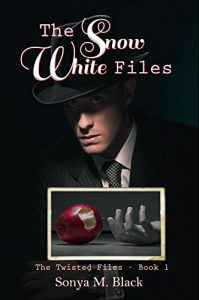 Brendan Hunter is a private investigator stuck on dead-end cases until seven dwarves show up in his office and offer him a King's ransom to track down a missing girl. Their description of Lily Whitaker sparks his imagination, leading him into the dark world of twisted fairy tales, magical machinations, and political gambits…
First, let me say that I love fairy tales and detective stories (you can read my review of another, similar book, The Beast of Talesend, here). I went into this book with the hopes of finding another fun fairy tale detective story, and I wasn't disappointed. Brendan is hesitant to take the Lily Whitaker case–and for good reason, given how powerful some of the players involved are.
Luckily for Lily, he agrees to search for her. This is a quick read (I devoured it in one sitting and then read the sequel, The Riding Hood Files.) But don't take that to mean that the plot is a simple one; there's enough twists and turns to keep the reader glued to the page. And I loved the writing style.
In terms of characters, I especially liked Stasia, Brendan's partner, who is a shapeshifter (the sequel is told from her POV!). Brendan himself is awesome; he has a sense of justice as well as a sense of self-preservation (both important for PIs).
I do wish I knew more about the magic system; due to the length of the book, there wasn't a lot of space for world-building, but magic clearly plays a big part in the world. Brendan himself is a mage, although a reluctant one. Stasia has her own kind of magic, in her ability to change form (which definitely comes in handy). Other characters also have varying abilities in terms of magic and talents.
Overall, I enjoyed this read, as well as its sequel, and I hope that a third book is in the works, as there was a hint that one might be at the end of the second. Definitely recommended for readers who enjoy fairy tale-inspired detective stories.
Intrigued? Pick up a copy on Amazon.