Welcome to the sixth stop of the Of Legend and Lore Blog Tour! Today, I'll be interviewing Allie May, one of the talented authors of this JL Anthology.
Thank you for being here today, Allie! I'm so excited to host you again; last time you visited was just over a year ago. (Readers, see here for my previous interview with Allie.)
As this blog tour is celebrating the upcoming release of our fairy tale anthology, let's start off with this question: What inspired your retelling?
I had a dream about a prince and his guard trying to sneak out of the castle while it was being invaded, and when they got caught, they touched hands and swapped bodies so the prince could get away. And when the JL started working on another fairy tale anthology, I knew what I wanted to do with the idea!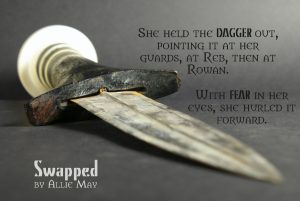 I love when dreams inspire my stories! The scenarios that come from them are always so interesting.
What was the hardest part of writing "Swapped"?
Oh, probably when I went into labor halfway through writing it.
Whoa! I think you win the prize for "hardest moment of writing a short story."
You wrote "Rose & Thorn" for the first JL anthology, From the Stories of Old. How did your experience writing "Swapped" for Of Legend and Lore differ from that of your previous short story?
Everything was different this time around. "Rose & Thorn" started out as a novel, which I cut down to the last chapter. But I had everything figured out beforehand, so all I had to do was write. With "Swapped," I had to start from scratch—world building, character sketches, plot, everything. And I had to figure out a new writing schedule while adjusting to being a new mom.
Speaking as someone who tends to add rather than subtract while revising, I'm impressed you cut an entire novel down into a short story. It's also amazing that you managed to juggle developing an entirely new story with motherhood.
This will be your second published fairy tale retelling. Is there another fairy tale you'd like to rewrite? Why?
There are so many fairy tales that I'd love to get my hands on. The original tales are so bare bones, they deserve to be fleshed out. I'm editing a Beauty and the Beast short story retelling right now, as well as outlining a Cinderella novella retelling, a Snow White/Robin Hood novella mash-up, and a The Goose Girl/Princess and the Pea novella mash-up that all briefly crossover. I'd like to work on some lesser known ones in the future.
Ooooh, I'm excited for the Beauty and the Beast retelling! The others sounds fun as well. I'd also like to write some retellings of lesser known tales; there are so many other there!
What is your favorite original fairy tale?
Oh, that's a hard question. Not because I like a lot of original fairy tales, but because I can find so many things wrong with them. I'd have to say either the Robber Bridegroom or Maid Maleen by the Brothers Grimm. The Robber Bridegroom because it's hysterically gruesome, yet still ends happily. And Maid Maleen because I think it's crazy that she would stay locked in a tower for seven years over a guy.
I think it's pretty crazy, too… But fairy tales often have such crazy characters and situations!
What is your favorite adapted fairy tale?
The Goose Girl by Shannon Hale. A close second would be Disney's Tangled. Third, would be Ella Enchanted by Gail Carson Levine (the book, not the movie).
I love all of those! Including the Ella Enchanted movie, if I must be honest. Though I enjoy it as its own thing, not as an accurate representation of the book, which it is most definitely not, haha.
Do you prefer a happily ever after?
Depends on my mood, but it has to be realistic. If It's gonna be happy, there should be some sort of bittersweet cost to the happiness. Things don't work out perfectly in the real world, and stories need to reflect that.
Our viewpoints on that differ… I love happily ever afters and I don't mind them being perfect. I like escaping from reality when I read. But it's always interesting to hear what others think about the matter!
If you could meet one author, alive or dead, who would it be?
Normally, I'd say Shannon Hale, but I met her at a book signing and again at a writer's conference. I met Brandon Sanderson, Lisa Mangum, and L. E. Modesitt Jr. at that same conference. And I met Brandon Mull as payment for babysitting his best friend's kids when I was in high school. So, Rick Riordan is probably next on my list.
Wow! That's amazing. You're very fortunate to have met so many great authors.
Who is the biggest supporter of your writing?
Probably my grandma. She's lent her copy of From the Stories of Old to just about every single one of her friends, and she asks me for weekly updates on my writing.
Awww, that's so sweet! It's wonderful when family supports your passions.
What other projects are you working on?
My big project is called Powerful. I'm editing the third draft right now. Here's the blurb: Her parents are in prison, her brother is on the run, and her powers are out of control. Now Crown Princess Kylanore has to restore balance to the government her parents corrupted. Under the watchful eyes of the Council of Four, Kylanore is sent to Floures Academy to control her water powers and prepare for her ascension to the throne of Tykra. While struggling to fit in, she accidentally reveals her extra powers, powers that were an unfortunate side effect of her parents' alchemical meddling.
When her brother reappears, he unveils secrets about the Council of Four that could destroy the Four Kingdoms. Will she keep quiet to protect herself, or will she join her brother on his renegade attempts at justice?
Ooooh, sounds intriguing! Best of luck with that and your other writing endeavors, Allie! And thank you again for being here today.
---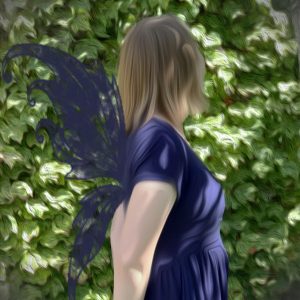 Allie May is a dog lover, mom, and Dr. Pepper addict who turns her caffeine-fueled dreams into believable fiction. She fell in love with the impossible at a young age and has been telling stories (some fiction, some mostly non-fiction) ever since.
In high school she won two poetry contests, and in college she started the blog, Hypergraphia to combat her uncontrollable impulse to write.  Her first fiction publication was a Sleeping Beauty retelling titled Rose & Thorn that was released in December 2016 in From the Stories of Old.
She married her high school sweetheart because he takes her to Disneyland (oh, and because she loves him). Together they have a dog child and a human child. On the weekends, you might catch a glimpse of her in the shadows as a lightsaber-wielding superhero.
You can follow Allie's writing adventures through her blog, Facebook, Twitter, Google+, Pinterest, and Goodreads.
Enjoyed this interview? Find more here:
Of Legend and Lore Blog Tour
Just-Us League hosts B.C. Marine — 5th February
Cover reveal on the Just-Us League blog — 7th February
Allie May hosts Matthew Dewar — 8th February
J.E. Klimov hosts Kelsie Engen — 13th February
Louise Ross hosts M.T. Wilson — 16th February
Heather Hayden hosts Allie May– 19th February
Kelsie Engen hosts Renee Frey — 20th February
RELEASE DAY — 26th February
M.T. Wilson hosts Sam Waterhouse — 1st March
Kristen Kooistra hosts Louise Ross — 2nd March
Elise Edmonds hosts J.E. Klimov — 7th March
J.E. Klimov hosts Heather Hayden — 9th March
Allie May hosts Elise Edmonds — 12th March