Christmas is just around the corner, but it's never too late to buy someone a gift of a story. Today I'm spotlighting one of my favorite Christmas tales, Nyssa Glass's Clockwork Christmas.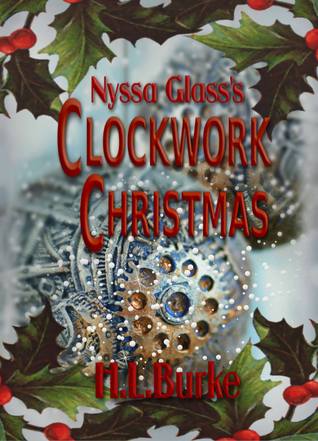 Released earlier this year, this story is part of the Nyssa Glass series, but stands easily on its own as a brief but magical Christmas tale. I inhaled it in one sitting, and will be reading it again soon in celebration of Christmas's arrival.
The blurb:
Reformed cat burglar and orphan Nyssa Glass doesn't have many fond memories of Christmas. Her boyfriend, Ellis, however, is determined to make their first holiday together a celebration of a lifetime. Nyssa can't let him down.
Overwhelmed by decorations and shopping, Nyssa sets out to find the perfect present for Ellis. However, when a charming dance instructor decides Nyssa is what he wants for Christmas, Ellis's only gift might be a dose of holiday heartbreak.
My review of it, from when I first read this book:
Short and sweet, this story is a perfect interlude in the Nyssa Glass series. I used to read a lot of fanfic when I was younger, and I always loved how some fanfic writers would have short spin-offs (usually holiday-themed) from their main book or series. This story reminds me of those–a brief tale set in the same world, showing the same characters I know and love in a slightly more domestic (and festive!) light than usual.
Don't be fooled by its brevity, though–there's plenty of story within those pages. Nyssa wants to get Ellis the perfect Christmas present, but as time runs out and she finds herself no closer to presenting him with a gift, she starts to lose hope… I don't want to say too much for fear of spoiling anything, but readers who love the Nyssa Glass series will also enjoy this brief tale and its shiny Christmas morning ending, and those who have yet to enter the series will find this a gentle and fun story to start with–though I would highly recommend starting with Books 1 through 3, because the series is so good!
Nyssa Glass's Clockwork Christmas is a short read, the perfect pairing with a cup of hot chocolate, mulled cider, or whatever delicious wintertime treat you prefer. It also makes the perfect gift for any of your friends or family who enjoy fantasy, steampunk, a bit of romance, and a good dash of the Spirit of Christmas.